FNSACC311 Process financial transactions and extract interim reports manually 3rd edition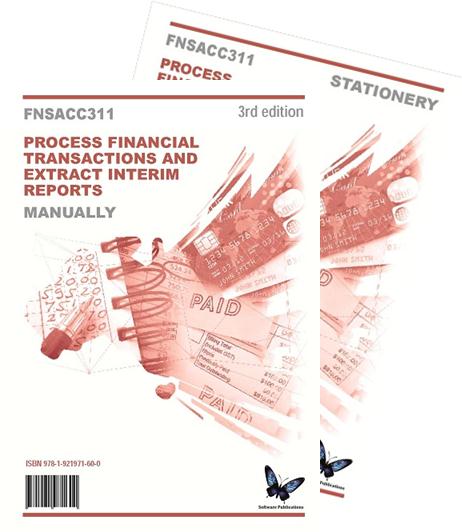 FNSACC311 Process financial transactions and extract interim reports manually 3rd edition
Two volume set – workbook and stationery
Stationery is not sold separately.
This workbook covers the skills and knowledge required to prepare and process routine financial documents, prepare journal entries, post journal entries to ledgers, prepare banking and reconcile financial receipts, and extract a trial balance and interim reports, including:
bookkeeping and accounting fundamentals

legislation and regulations

preparing source documents

petty cash

purchases and sales

accounting conventions

reconciliation

financial reports
Provision has been made in this workbook for both formative and summative assessment.
Four formal assessments are available for purchase on the training resource CD available by training organisations, trainers and assessors.
ISBN: 978-1-921971-60-0
Unit code: FNSACC311
Author: Software Publications writing team
Pages: 227/121
Note:
Download the table of contents (below) for a list of topics covered in this workbook.
Download the sample pages (below) for:
content mapping against the Unit of Competency

workbook learning layout

assessment mapping against the Unit of Competency.
This workbook is printed in black and white only.